Ethics and Anti -Corruption Directorate organizes half day training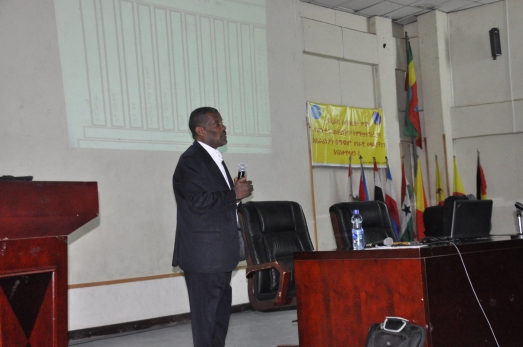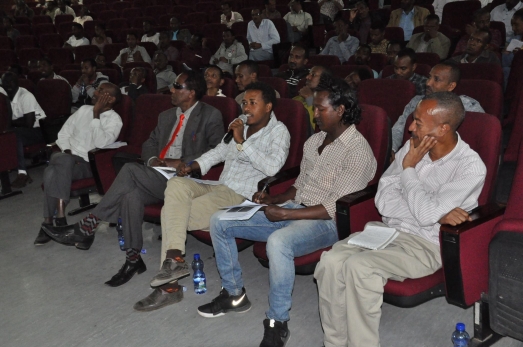 Ethiopian Civil Service University Ethics and Anti-corruption Directorate organized awareness raising training to ECSU students drawn from different departments on November 29, 2017 at Abay Hall. The training was focused on basic concepts of corruption and ethical elements.
According to Ato Gebre Tibebu, Director of Ethics and Anti-Corruption Directorate, the main objective of the training was to strengthen anti corruption fighting endeavor by raising awareness of the students. Our students are recruited from different federal and regional public service sectors. They are also expected to serve the society when they return to their respective institutions. For this, such kind of training has a great importance to equip students with basic characteristics and features of corruption and unethical activities and enable them to fight these activities. This training helps them on identifying corruption risk, tools to prevent corruption, and awareness of the consequences Ato Gebre added.
The training was given by Ato Bezabih Tamiru from the Federal Ethics and Anti-Corruption Commission (FEACC). He explained the basic concepts of corruption, types of corruption, characteristics of corruption, how corruptions differ from other crime, how to fight and prevent corruption deeply for the students. Finally he emphasized that as a civil servants you must play your role to fight corruption when you return to the respective federal or regional institutions. "Understand your role and what is expected from you. This is a basic thing in fighting and preventing corruption. An anti-corruption activity concerns every citizen and you must stand firmly to combat corrupted actions," Ato Bezabih underscored.
The students raise different questions for further explanations and the trainer explained to them briefly.
Ethiopian Civil Service University Ethics and Anti-corruption Directorate has been working on different awareness raising activities and distributing all the necessary information through electronics and printed materials.