The Standing Committee Discussed with ECSU Top Management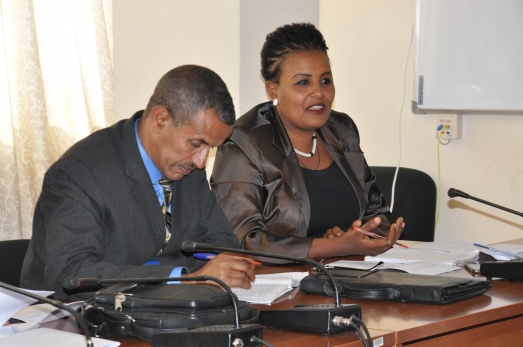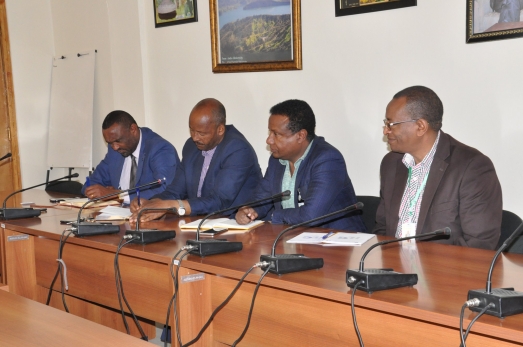 EFDR House of Peoples' Representative Human Resource Development and Good Governance Standing Committee discussed with Ethiopian Civil Service University top management body on 31 January 2018 at Senate Hall. The discussion focused on different issues that the Standing Committee observed during its three days visit at the university.
On the discussion the committee appreciated the university's endeavor to build the capacity of the public service sector in general and paying special attentions for female students and students from emerging regions in particular. It also commented on both the strength and weaknesses based on the information it gathered from students, instructors and academic and administrative staff.
The Standing Committee raised the application of Balanced Score Card and cascading it at all level, the reform activities and incentives for the best performers, the good relationship with regional institutions, facilities avail for both students and trainees and other issues as a strong part of the university. On the other hand the committee suggested the university to work on some areas for better improvement. It said the university must work to assure good administration at all level of the university and prepare strong hierarchical problem solving mechanism.
Besides, it is expected to work hard on empowering women and building the image of the university the Standing Committee underscored. It also advised the university top management to discuss and work hand in hand with the staff members to meet the vision set by the institution -"to become a leading center of excellence in public service capacity building in Africa by 2025''.
Professor Fikre Dessalegn, President of ECSU, on his part said based on the deep renewal we identified the basic good administration problems at the university and included them in our plan. By this, we solved some of the problems and the rest are on due process, so we will do continuous improvement in our performance. With regard to empowering women many things have been done so far and by now more than twenty five Positions at different levels are filled by women and we also encourage them to come up to the highest level Professor Fikre added. He also mentioned the activities done to build the image of the university. Finally Professor Fikre Dessalegn told the committee members that the university is a common asset for all and assured that the feedback given by them is constructive and serves as an input for the future activities. Other members of the ECSU top management body also reflected their views and ideas on the issues raised by the standing committee members.
While staying at the university, the Committee held discussion with Students, administrative and academic staff, department heads, members of College of Leadership and Governance and observed the activities of different Directorates.